Travel and Tourism information for
Black Creek, Vancouver Island, BC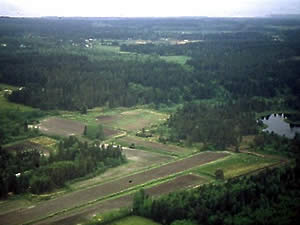 Farm in Black Creek.


Black Creek is a rural community at the north end of the Comox Valley. Primarily a mixed farming area, Black Creek farms produce a wide variety of agricultural products including dairy, corn, vegetables, organic specialty products, cranberries, lamb and wool, as well as specialty meats like ostrich, fallow deer, and wild boar.

History
Black Creek was the location of extensive logging in the early years of the 20th century. In the wake of logging, the area was opened up to farming by German speaking Mennonite settlers in the 1930s.
In the 1950s a wave of immigration from Austria and Germany was sponsored by Black Creek Mennonites.
In more recent years the area has become more diverse in the origins of its residents.
Climate

Black Creek, and the Comox Valley in general, enjoys one of the most temperate climates in Canada, with typically short, mild winters and warm, dry summers.

Travel

The Old Island Highway, also known as the "Oceanside Route" ( BC Highway #19A ) passes through Black Creek about 20 minutes north of the central Comox Valley city of Courtenay and 20 minutes south of Campbell River.




The Comox Valley has something for everyone: culture, scenic beauty, numerous outdoor recreational opportunities, mild climate and a relaxed lifestyle are all here to enjoy.