Travel and Tourism information for
Hornby Island, BC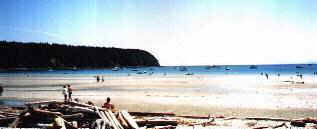 View of Tribune Bay, Hornby Island.


Hornby Island, one of the northern Gulf Islands, lies off the eastern coast of Vancouver Island, adjacent to the Comox Valley.

A community of just under 1000 year-round residents, Hornby Island became a refuge for many American draft dodgers during the Vietnam War. These people, along with others seeking a place to escape the pressures of urban life, have created a distictly "alternative" culture. In addition to the small population of year-round residents, there are a substantial number of summer residents. In recent years Hornby has become a tourist destination and its population swells to four times it's off-season size in the summer months.

Hornby Island is home to a thriving community of artists, many of whom open their studios to visitors during the sumer months.

Hornby Island offers many outdoor recreational opportunies including kayaking, sailing, diving, hiking, biking and swimming. Parks on Hornby Island include Helliwell Provincial Park, Big Tribune Provincial park, Mount Geoffrey Regional Park and Fords Cove Marina.

History

Before the arrival of European settlers, the island was part of the teritory of the Pentlatch, a Coast Salish First Nations band. In 1791 the island was named Isla de Lerena by Spanish explorers. It was given it's current name in 1850 when the British admiralty renamed it after Rear Admiral Phipps Hornby, then Commander of the Pacific Naval Station.

First European settlement and farming of the island occured in the 1860's.

In 1870 a whaling company set up operations at Whaling Station Bay, but within two years the operation was clased.

Climate

Hornby Island enjoys short, mild winters and warm, dry summers and lower precipitation than other nearby areas in the Comox Valley.

Travel

Access to Hornby Island by is ferry from Denman Island which, in turn, is reached from Vancouver Island from the Buckley Bay ferry terminal. The Old Island Highway, also known as the "Oceanside Route" ( BC Highway #19A ) passes through Buckley Bay 20 minutes south of Courtenay, in the Comox Valley.

The Buckley Bay exit from the Inland Island Highway ( BC Highway 19 ) is less than 1 kilometer from the ferry terminal to Denman Island at Buckley Bay.

BC Transit operates a local bus service connecting Buckley Bay with the rest of the Comox Valley.
Events
Hornby Festival - Summer festival of the Arts held annually in early August
Hornby Blues - The Hornby Island Blues Workshop, one of the premier
blues instructional camps in Canada, is held yearly in May.

Hornby Island and the Comox Valley has something for everyone: culture, scenic beauty, numerous outdoor recreational opportunities, mild climate and a relaxed lifestyle are all here to enjoy.