Travel and Tourism information for
Mt. Washington, Vancouver Island, BC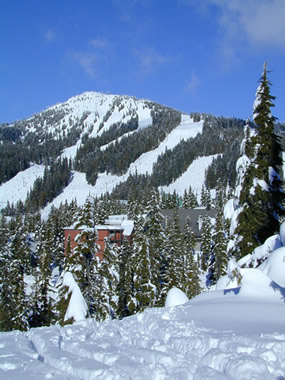 Chalets at Mt. Washington Village.



North of Forbidden Plateau and 23 km west of the central Comox Valley city of Courtenay on Vancouver Island, Mt. Washington rises to a height of 1585 m (5200 ft) above the adjacent Comox Valley.

Vancouver Islandís largest skiing and snowboarding area, Mount Washington Alpine Resort offers unique alpine experiences to its visitors year round. During the winter months record snowfalls create a paradise for downhill skiing, snowboarding and cross country skiing. In the summer months the alpine meadows burst into bloom and hikers, mountain bikers and outdoor enthusiasts of all kinds take over the slopes at Mount Washington.

Nestled at the base of the ski slopes is Mount Washington Village, a growing mountain village of seasonal lodging and year-round chalets.

History

Mt. Washington was named in 1864 after British Navy hydrographer John Washington. Until the late 1970s the mountain was accessed only by logging companies and hikers. One clear winter day about in 1980 years ago, three local foresters flew by and look and were astounded at the quantity of snow. With a fourth Victoria-based partner, they resolved to develop ski facilities on the mountain. While slow to expand, Mount Washington Alpine Resort is today the second mostt popular ski area in BC.


Climate

While residents and visitors to the Comox Valley are teeing off on the golf course on winter days when the rain subsides, the precipitation on the mountain usually falls as snow. Mt. Washington has boasted the deepest snow base in North America on some years, and is nearly always near the top of the list.


Travel to Mt. Washington

Mount Washington is located 23 km west of the Comox Valley, 50 km south of Campbell River and 110 km north of Nanaimo, on Vancouver Island.

By Car

Take the Island Island Hwy. (#19) to Exit 130. Follow the paved Strathcona Parkway for 16 km. (Approx. drive time: 1 1/2 hr from Nanaimo, 3 hours from Victoria).

By Ferry

The Nanaimo ferry terminals are serviced from Horseshoe Bay and Tsawwassen on the Lower Mainland.

By Air

Daily air service from Vancouver to the Comox Valley Regional Airport (YQQ) is available. Westjet flies direct from Calgary and Edmonton to Comox.

By Bus

Travel from Nanaimo or Victoria on Smith Transportation , or Smith's Mount Washington Ski Bus (Nanaimo 250 756-2544 Victoria 250 382-2544 or 1-877-756-2544).
Travel from Victoria on Grayline's McDonald's Ski Express (250 388-5248 or 1-800-318-0818).






The Comox Valley has something for everyone: culture, scenic beauty, numerous outdoor recreational opportunities, mild climate and a relaxed lifestyle are all here to enjoy.